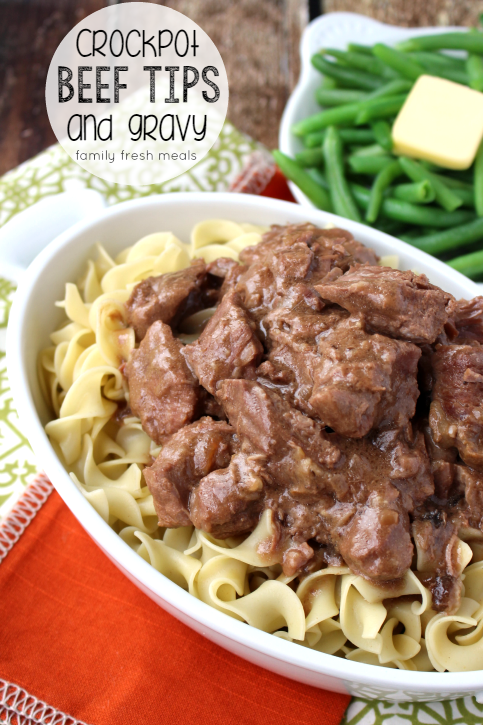 This beef tip crock pot dish is really yummy. One little thing I do to make this dish even yummier is when the sauce is added to the crock pot, I add many, many sliced mushrooms to give the dish extra flavor and texture. As I write, my crock pot is just waiting to be turned on "Low"" and when I come home from work, my dinner will be ready on this chilly Thursday.
INGREDIENTS
2 lbs beef stew meat

1 (10.75 oz) can condensed cream of mushroom soup
1 (.88 oz) packet brown gravy mix - some packets range to 1 oz, and that's still ok to use
1 cup beef broth
1 small onion, diced ( about ⅓ cup)
1-2 cloves of garlic minced
1 Tablespoon cornstarch, mixed with 1 Tablespoon water (you can also use 2TB of flour with ¼ cup water)
Optional:
Egg noodles or mashed potatoes, prepared.
INSTRUCTIONS
In a medium bowl, combine cream of mushroom soup, gravy mix, beef broth, onion and garlic. Whisk together. It's ok if it's a little lumpy, while it's cooking in the slow cooker, the lumps will mix in.
Place your stew meat into a 4 quart crockpot. Pour gravy mixture over beef and gently stir to combine. Cook covered on LOW for 7 hours. Once done cooking, remove beef with a slotted spoon and set aside. Stir in cornstarch/water mixture (this will thicken up the gravy.) Replace beef back into crockpot and continue cooking for 5 more minutes while gravy thickens.
Serve over egg noodles or mashed potatoes.