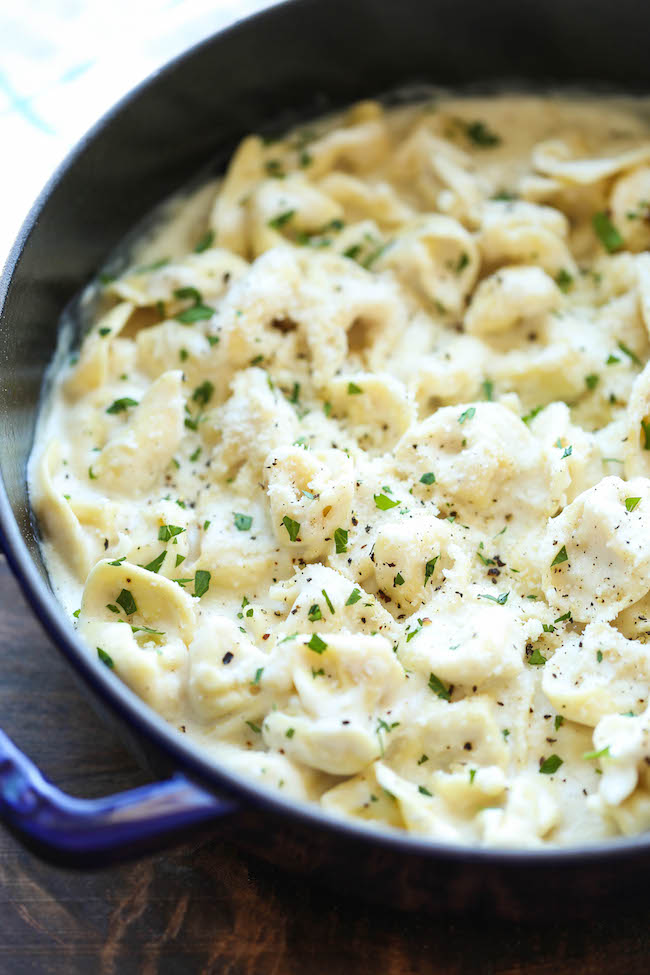 This photo belongs to Damn Delicious
I just love a creamy, white, gooey sauce and this dish had just that! It took no time at all to make and we decided to add crispy, bacon bits cooked on the Traeger to it which made it even more decadent. I would make this again in a heart beat for guests as it is just that good and the left overs are ones to fight over.
Easy Garlic Alfredo Tortellini via Damn Delicious
"So simple, so easy, and just amazingly creamy. Best of all, it comes together in just 20 min from start to finish!"
Ingredients
1 (9-ounce) package refrigerated three cheese tortellini
2 tablespoons unsalted butter
3 cloves garlic, minced
1/4 teaspoon crushed red pepper flakes
2 tablespoons all-purpose flour
1 cup milk, or more, as needed
1/2 cup half and half*
2 ounces cream cheese, cubed
1/4 cup freshly grated Parmesan cheese
Kosher salt and freshly ground black pepper, to taste
2 tablespoons chopped fresh parsley leaves
Instructions
In a large pot of boiling salted water, cook tortellini according to package instructions; drain well.
Melt butter in a saucepan over medium heat. Add garlic and red pepper flakes, and cook, stirring frequently, until fragrant, about 1 minute. Whisk in flour until lightly browned, about 1 minute.
Gradually whisk in milk and half and half, and cook, whisking constantly, until slightly thickened, about 2-3 minutes.
Stir in cheeses until melted, about 1-2 minutes. If the mixture is too thick, add more milk as needed; season with salt and pepper, to taste. Stir in tortellini and gently toss to combine.
Serve immediately, garnished with parsley, if desired.
Notes
*Half and half is equal parts of whole milk and cream. For 1 cup half and half, you can substitute 3/4 cup whole milk + 1/4 cup heavy cream or 2/3 cup skim or low-fat milk + 1/3 cup heavy cream.