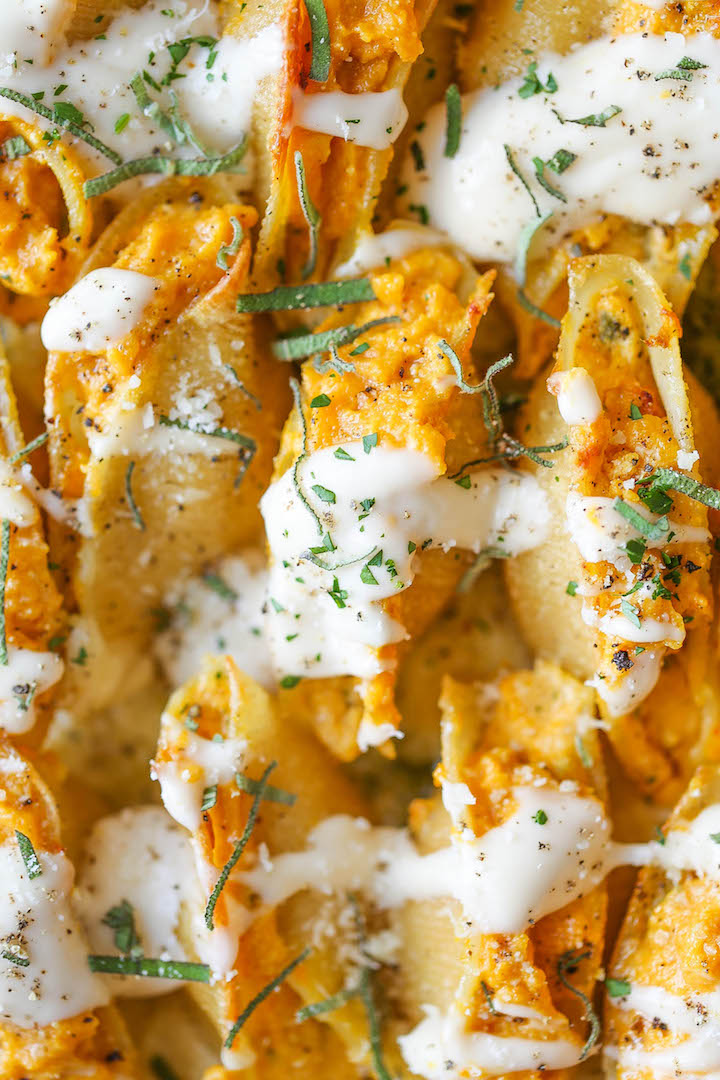 I whipped these up yesterday after spending a few hours in Geneva and the dish was wonderful...light and creamy and beautiful. The prep time was very manageable as I assembled everything in steps. As the water was boiling and the pasta cooking, all the ingredients for the filling went into a bowl. When the shells were drained and cooling, the cream sauce was made, then I filled the shells and topped them with the sauce before baking on the Traeger. Yes, I once again used my Traeger because when you have one of these babies, there is no need to ever, ever use your oven.
INGREDIENTS:
24 jumbo pasta shells
2 tablespoons olive oil
2 cups ricotta cheese
1 (15-ounce) can pumpkin puree
1/2 cup freshly grated Parmesan
1 large egg
1 tablespoon chopped fresh sage leaves
Pinch of nutmeg

Kosher salt and freshly ground black pepper, to taste
FOR THE GARLIC PARMESAN CREAM SAUCE
1/4 cup unsalted butter
4 cloves garlic, minced
1/4 cup all-purpose flour
1 1/2 cups milk
1/2 cup half and half
1/2 cup freshly grated Parmesan
Kosher salt and freshly ground black pepper, to taste
DIRECTIONS:
Preheat oven to 350 degrees F. Lightly coat a 9×13 baking dish with nonstick spray.
In a large pot of boiling salted water, cook pasta according to package instructions; drain well. Transfer to a baking sheet and drizzle with olive oil; set aside and let cool.
In a large bowl, combine ricotta, pumpkin, Parmesan, egg, sage and nutmeg; season with salt and pepper, to taste. Stuff each shell with about 2 tablespoons ricotta mixture.
To make the garlic parmesan cream sauce, melt butter in the skillet over medium heat. Add garlic, and cook, stirring frequently, until fragrant, about 1-2 minutes. Whisk in flour until lightly browned, about 1 minute.
Gradually whisk in milk, and cook, whisking constantly, until incorporated, about 1-2 minutes. Stir in half and half and Parmesan until slightly thickened, about 1-2 minutes. If the mixture is too thick, add more milk as needed; season with salt and pepper, to taste.
Spread 1/2 cup cream sauce in the prepared baking dish. Arrange shells in dish, topping with remaining sauce.
Place into the oven and bake for 20-25 minutes, or until golden brown and bubbly.
Serve immediately.